I like to think that I've got my finger on the pulse of Amsterdam. But I think lots of things. So it was a bit of a shock to discover a beer pub that I knew nothing about. How embarrassing.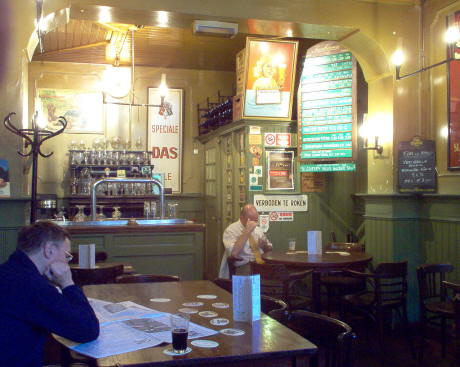 John Clarke tipped me off (thank you, John). The report was confirmed by a colleague of Will's. Am I the last to find out? Actually, I blame Mike. He was supposed to have investigated the islands. So it's him who missed it, really. Not that I'm pointing the finger at him, but it was totally his fault.
Now I've finished distributing praise and retribution, maybe we can discuss the pub itself,
Westerdok
. I'd walked past it before, many years ago. It had never been open. Then again, it had been 6 o' clock in the morning. Not many pubs open at that time.
You'll have to excuse me if I'm parsimonious with facts and details. Me and Mike hit
Westerdok
a good way into the afternoon. We started off with a couple in
Wildeman
(the delicious
Hummel Räucherator
), then continued on to
Wijnand Fockinck
to sit in the wonderful garden. And drink jenever, obviously.
By the time we reached
Westerdok
we were already quite cheerful. When we left, we were positively euphoric. Let's see what I can remember about it. It's located on the Westerdok (what a surprise) just over the road from the Silo. (I may, one day, tell you some of my Silo stories. You can just about see the Silo in the background of the picture to the left.)
The pub is on the corner a row of 19th century houses. The interior is charmingly downbeat. Just my sort of place. I can't remember how many draught beers they had. Between 6 and 8. I do recall that there were around 50 bottled beers. In Amsterdam that qualifies it as a fully-fledged beer pub.
I seem to remember eating bitterballen. That must have been Mike's idea. He's always eating, not that you'd think it to look at him. Must have a tapeworm.
Next thing in my memory is waking up with the football on. I guess there were a couple of events inbetween, like walking back to the Nieuwezijds Voorburgwal, getting on a tram, eating my tea. They don't seem to have left any impression on my mind. I'm even a bit hazy about the score in the football.
And my coat seems to have gone missing. I suspect Dolores may have just taken the opportunity to throw it away. She's been on at me to replace it for a couple of years. It had just about fallen apart. But buying clothes is such a chore. I try to limit the experience to once every two or three years.
Reading it back, this isn't my most informative post ever. But, hey, there are facts to spare in the posts that straddle it. Just borrow a few from one of those, if you feel shortchanged.
Café Westerdok
Westerdoksdijk 715/A,
1013 BX Amsterdam.
Tel: 020 - 428 9670
Email: cafe-westerdok@xs4all.nl
http://www.westerdok.eu/
Opening times:
Mon closed
Tue - Thur 16:00 - 00:00
Fri - Sat 16:00 - 01:00
Sun 16:00 - 00:00